Vermont Natural Coatings PolyWhey® Finish Earns USDA Certified Biobased Product Designation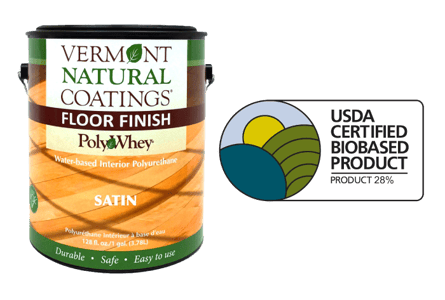 HARDWICK, VT, April 22, 2019— Vermont Natural Coatings, manufacturer of high performance naturally derived whey-based wood finishes, has earned USDA Biobased product designation for its industry-leading PolyWhey Floor Finish. PolyWhey is the only floor finish to receive the designation, will be included on a special USDA label.
The USDA Certified Biobased Product label display's a product's bio based content, which is in the portion of a product that comes from a renewable source, such as plant, animal, marine or forestry feedstocks. PolyWhey is made through a patented process using whey protein, a byproduct of cheese making. Utilizing renewable, bio based materials displaces the need for non-renewable petroleum-based chemicals. Biobased products play an increasingly important role in reducing greenhouse gas emissions that exacerbate global climate change.
Biobased products like PolyWhey Floor Finish are cost comparative, readily available and perform as well or better than their conventional counterparts, says the USDA. PolyWhey technology has emerged as new coatings technology, replacing toxic components traditionally found in wood finishes.
"Vermont Natural Coatings has proven that safe, high performance finishes can be formulated from sustainable resources free of all carcinogens and mutagens," said Andrew B. Meyer, founder and president of Vermont Natural Coatings. "The public should demand nothing less for living and working environments, especially for schools. Health officials have clearly articulated the potential health hazards associated with the application and off gassing associated with traditional solvent-based floor finishes."
"We applaud Vermont Natural Coatings for earning the USDA Certified Biobased Product label," said Lewis of the USDA BioPreferred Program. "Products from Vermont Natural Coatings are contributing to an ever expanding marketplace that adds value to renewable agriculture commodities, creates jobs in rural communities and decreases reliance on petroleum."
PolyWhey began as collaboration among farmers, furniture makers and scientists at the University of Vermont to expand the value of Vermont agricultural and forestry industries. Vermont Natural Coatings interior and exterior products are available at nearly 400 retail locations through the United States and Canada.